Character Description
Yoochun – Han Jungwoo (29 years old)
– Homicide Detective- nicknamed Crazy Rabbit
"Is it Jungwoo? … Jungwoo-yah! Han Jungwoo!"
In order to not forget the voice of yours that had once called for my name, I close my eyes and recollect it everyday.
Whenever it rains, I would follow your habit. Counting the raindrop traces
"I will meet (you) today, I won't meet (you) today. When I make that turn, you will be there… Or not"
When I madly chase after criminals, would I let you slip by…?
Like the day when you watched my back while I walked further and further away from you, would you resent me further…?
Suyeon-ah, Lee Suyeon… I want to see you badly today. Before I forget the sound of your voice.
Missing a girl like this, it is completely my lone mission.
All the suffering started because of me. That's why I have no right to cry.
That's why for today too, (I) just run like (I) have gone crazy.
Yoon Eun Hye – Lee Suyeon (29 years old)
Fashion Designer
(Her) specialty is to smile while speaking of painful events.
Bright, dignified. But why does that image look painful. In a phrase, this girl really confuses people.
Dresses casually, very boyish, yet is unexpectedly sensitive. (She) dislikes it when it rains as it gets gloomy, but she never brings an umbrella  only wears a cap [and] goes out.
Even then, she's not a crazy woman. However, there is a man who is planning to go crazy for her! Han Jungwoo.
Even if it's just a name, (my) heart seems like it will stop beating, Jungwoo appeared in front of me.
Han Jungwoo, you lived till today because of me?
To look for me, that scaredy-cat became a detective?
When Jungwoo met me, he asked me to call out his name.
Although the face is different, but after seeing me (he) almost went crazy , because (he is) reminded of Suyeon who he is looking for.
Chun Jung Myun – Kang Hyung Jun
Personal Finance Advisor
Expressionless. His gaze is cold, his mind is composed too.
However, only one girl is an exception. Only to that girl is he caring.
He doesn't express it with words. Whatever the girl wants, he knows and would satisfy her.
Thus, the others regard him as cold, but she merely calls him indifferent.
The[er] is no way for failure, everything is correct.
Therefore, all his big clients have absolute trust in him. To the extent that all the large players in the stock market want him as a son.
However, he uses his most pained wound as a weapon, and is a man who lives while embracing scary cruelty.
Jang Mi In Ae – Han Ahreum (22 years old)
University Student (Business major)
Cold exterior with a soft inside. Gentle, kind, but very stubborn.
Like an old person, although she's young, but has an exhausted heart.
Believing in Jungwoo oppa whom she admires, his existence is an oasis in her life.
If not for oppa, (she) would have given up on love.
Secretly jealous of the girl "Suyeon" whom Jungwoo oppa wants to find till he dies,
even so, there is a greater need to look for a man like Jungwoo oppa to date, and marry.
However, no matter how much she rubs her eyes to look, that kind of man is rare, and is therefore depressed
Trans by maettugi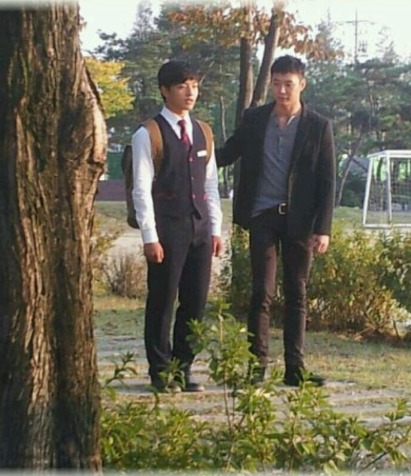 Picture credits – Soompi